1943 Washington Quarter MS-64
Viewed 7 times
Purchase Price
$

13.95

(

)

Unsuccessful

Quantity Available

1

Available Until
Available Since
Listed By ProCoins
View More Listings
Description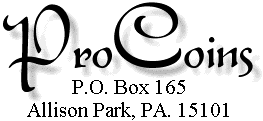 Call to discuss the coin condition if you have any questions 412-551-7068
When you pay by PayPal we ship to confirmed addresses.
Insurance provided by ProCoins at no charge.
Got a question???
Please do not hesitate to phone 412-551-7068.
Email: Joe@procoins.com
ProCoins has been a Pittsburgh coin dealer and collector for many years and I have been involved in internet sales for the past twenty years. I retired in January of 2008 and I have been doing this full time since. I have in the past sold many collections on EBay, my website is www.procoins.com and have many nice comments on my coins from collectors like you. I have been a coin dealer for over 25 years.
Due to the new Minnesota Bullion Coin Dealer law, ProCoins Inc. is prohibited from selling any Silver or Gold coins or silver rounds directly to Minnesota residents. By bidding on this item (if it contains silver, gold or any form of bullion), I certify that I am not a resident of Minnesota.
Shipping
USPS: $2.95

($0.20 as additional item)